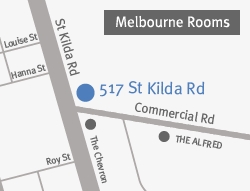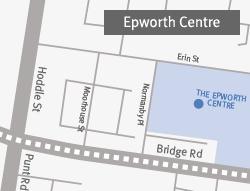 Appointments
Referrals
A referral is required from your GP or medical specialist for a consultation. For a standard appointment, an appointment date will be arranged after receiving your doctor's referral by mail or fax. An emergency referral must be made by direct communication by your treating doctor to Mr Chan by phone. A subacute referral can be made by either phone, mail or faxes from your treating doctors to Mr Chan directly.
Medicare stipulates that referrals from a GP will remain valid for up to 12 months and referrals from a medical specialist, three months. Without a current referral, Medicare will only reimburse fees charged at GP rates. If your referral is not current then you will incur additional costs.
Consultations
Private consultations are conducted at Suite 1 Level 3, 517 St Kilda Road, Melbourne 3004, or alternatively at Suite 8.5 Epworth Centre, 32 Erin Street, Richmond 3121. Patients who receive private consultations are required to have private health insurance or have either a current claim with Workcover or the Transport Accident Commission, or are Veterans' Affairs patients who hold a gold card. Veterans' Affairs patients with white card status are also eligible for private consultation, providing the card covers their condition. Patients with brain or spinal tumours with or without private insurance are also consulted in the private rooms. Uninsured patients with degenerative spinal disorders or their referring doctors should contact the Department of Neurosurgery at the Alfred Hospital on phone 9076 3716 or fax 9076 3740 to arrange an outpatient appointment with Mr Chan. All appointments are arranged according to the urgency of the referral.
What You Should Bring with You to A Consultation
You should bring with you X-rays, CT scans, MRI scans and all other medical imaging films and reports applicable to your condition. It is important that you provide us with accurate information concerning all medications that you are currently taking.
Fees
There is an out of pocket fee above the Medicare Rebate for all new and review consultations. Payments can be made via cash, cheque, money order, credit card or eftpos. Fees for Workcover, Transport Accident Commission and Veterans' Affairs patients will be conversant with the fees governed by those organisations and no additional costs will be incurred. All payments should be made through the office at 517 St Kilda Road. Private patients proceeding to surgery will be provided with a detailed quotation and are required to sign a form of acceptance for those fees prior to proceeding with surgery.
The Main Room (All Correspondence)
Suite 1 Level 3
517 St Kilda Road
Melbourne VIC 3004
Tel: (03) 9866 6688
Fax: (03) 9866 6288
Melway map 58 ref B5
Parking
A commercial carpark is located at 517 St Kilda Rd (enter from Commercial Rd). Hourly fees apply.  Metered parking spaces are available on St Kilda Rd, Commercial Road, Hanna St and Roy St.
Public Transport
By trams (route 72 or any trams from Flinders St Station, except nos 8 and 1) and by buses (routes 216, 219 and 220). The office is located within walking distance of Prahran train station (Sandringham Line).
Epworth Richmond
Suite 8.5, Epworth Centre
32 Erin Street
Richmond VIC 3121
Tel: (03) 9866 6688
Fax: (03) 9866 6288
Melway map 44 ref D9
www.epworth.org.au
Parking
Undercover pay-per-hour car parking is provided by the Hospital. The entrance is off Bridge Road only. Open daily from 6am to 10.45pm.
Public Transport
By tram (routes 48 or 75, stop 15) and train (West Richmond on the Epping Line). It is located approximately 15 minutes walk from Richmond Station.